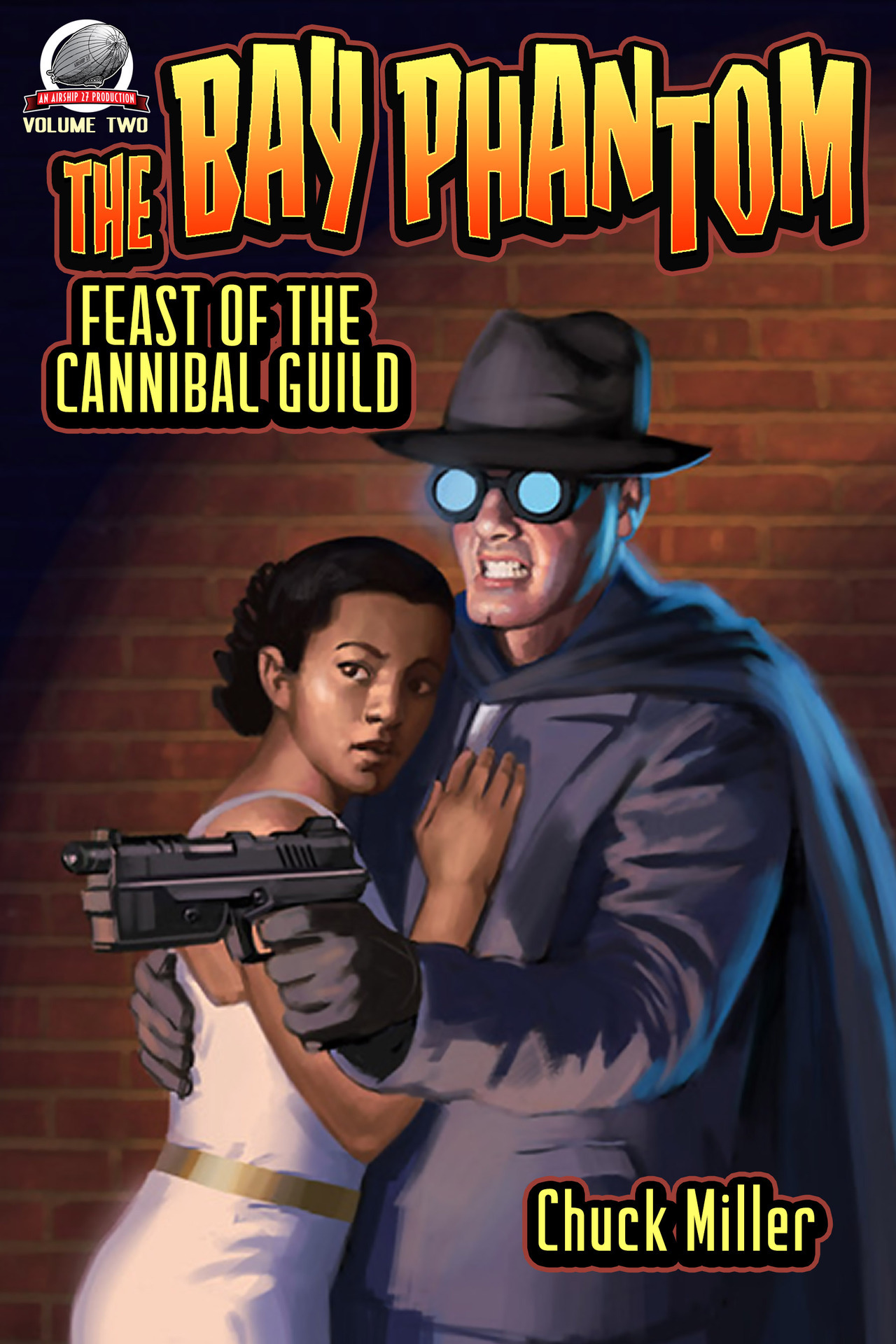 The Bay Phantom
Kevin did nine (9) interior illustrations for this novel. Ron Fortier and and everyone Airship 27 has been a great support as added my own work to this great book.
THE BAY PHANTOM – FEAST OF THE CANNIBAL GUILD by Chuck Miller.
Cover by Adam Shaw – (No relation.)
AIRSHIP 27 PRODUCTIONS
RETURN OF THE BAY PHANTOM
Airship 27 Productions, a leader in the New Pulp publishing community, is excited to present the second book in writer Chuck Miller's series; "The Bay Phantom – Feast of the Cannibal Guild."
When a shadowy group of criminals start shaking down restaurants in Mobile, Joe Perrone once again dons the cloak and goggles of the Bay Phantom. Shortly thereafter, wealthy young men begin dropping dead without warning. What do these things have in common with a mysterious psychic, a sinister funeral home, and a nationalist movement known as the Transatlantic Patriots Guild?
That is what the Bay Phantom must learn, and he must do it without his trusted aide, Mirabelle Darcy. She is away on a mission of her own; one that necessitates her breaking into the Leavenworth Federal Penitentiary. Thus left to his own devices, can the Phantom thwart the Cannibal Guild and their deadly assassin, the Mummifier? Or will he become their next victim?
"Chuck Miller is one of the most original writers in New Pulp today," states Airship 27 Productions' Managing Editor, Ron Fortier. "His storytelling is truly unique and he envisions the most startling characters, both good and bad, ever to grace a pulp thriller. When Miller puts a spin on a tale, you'd best hang for a truly wild ride."
Once again Chuck Miller offers up a thrilling new adventure set in the Deep South and starring his original pulp hero; The Bay Phantom. This is pulp action with an added spicy kick. Along for the adventure are cover artist Adam Shaw and, debuting for the first time with Airship 27, interior illustrator, Kevin Paul Shaw Broden.
AIRSHIP 27 PRODUCTIONS –
PULP FICTION FOR A NEW GENERATION!