Many of my professional comic book and animation friends on facebook and twitter have commented how this was one of the best San Diego Comic Cons they have had. Each say this for their own reasons, and it's up to them to tell you why, but let me talk about why this is one for me.
As I've written about before, when I first got into reading comics I discovered the Justice Society of America before I really knew the Justice League was more than SUPER FRIENDS. Soon after that I found a comic called ALL-STAR SQUADRON. This book was written by Roy Thomas, and in one way or another included every single 'Golden Age' hero that DC Comics owned.
For many years, Thomas had his hands controlling the greatest of characters from both Marvel and DC.
Because as a kid he grew up reading all the original Golden Age characters he maintained a passion for all of them when he became a professional writer himself. I'd like to think I'm following in his footprints.
At the first ComicCon I attended, I was excited to attend a panel on Roy Thomas and his books. Unfortunately, for one reason or another, he couldn't make it to the panel but con personnel said he was there. So another attendee and I mustered up enough courage to go to the info booth and ask to have him paged. (Realize I was a very shy kid in my early teens. Of course I'm still rather shy in my mid—never mind.) But Mr. Thomas never showed up. I was disappointed, but didn't have any negativity against the man who controlled all these great characters.
Years later after getting my first job in the comic book industry, I met him extremely briefly while attending Pro-Con in Oakland. (Anyone remember that?) But he and Marv Wolfman were in deep discussion that I didn't want to disturb him.
(I lost a lot of opportunities over the years because I didn't want to disturb people. Finally getting over that. That's a blog post all into itself.)
Finally we reach this year. Shannon and I attended a couple of spotlight panels. One on the artist George Perez, and the second was on Roy Thomas. The panel was moderated by Jon B. Cooke (editor of TwoMorrow's COMC BOOK CREATOR magazine), and they talked about Thomas growing up and reading comics as a little boy, on to writing and editing for Marvel, and then doing what he says is his favorite book for DC Comics ALL-STAR SQUARDRON.
Yay, me too.
Here's the cover of the very first Issue I bought: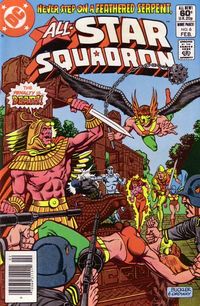 Getting to hear him talk about all that was really good, but the day wasn't over. After a dinner at the hotel before heading to the Writer's Guild of America gathering, we were coming down an escalator and knew we had a limited amount of time. Standing in the corner by the Starbucks in hotel's lounge stood Roy Thomas.
What feels like the first time in my life, I didn't hesitate or think about what I was doing, and just went up to Mr. Thomas and introduced myself.
He was extremely friendly as I told him how ALL-STAR SQUADRON not only got me into comics, but also into enjoying history of World War II. That pleased him, because he was always incorporating history into the stories.
I told him how I later worked for Brian Murray who had been one of the artists on the follow up series YOUNG ALL-STARS.
Shannon spoke up saying how as an editor at Marvel, Roy had given a writing assignment to Christy Marx who later became a mentor to her which lead to her own career in animation.
I thanked him and his wife once more and headed off to meet more of our fellow writers. I was walking on cloud 9 almost crying with joy. Nothing could have made this Con better, and yet there were other things that we will be talking about for a long time to come.
Though most of those 'golden age' characters have dropped back into the shadows as new generations of writers and characters take over, Roy Thomas and the ALL-STAR SQUADRON will forever be the heart of what makes comics special to me and why I write and draw them.
Thank you Mr. Thomas.