Celebrating 15 Years of a Webcomic by KevinPSB4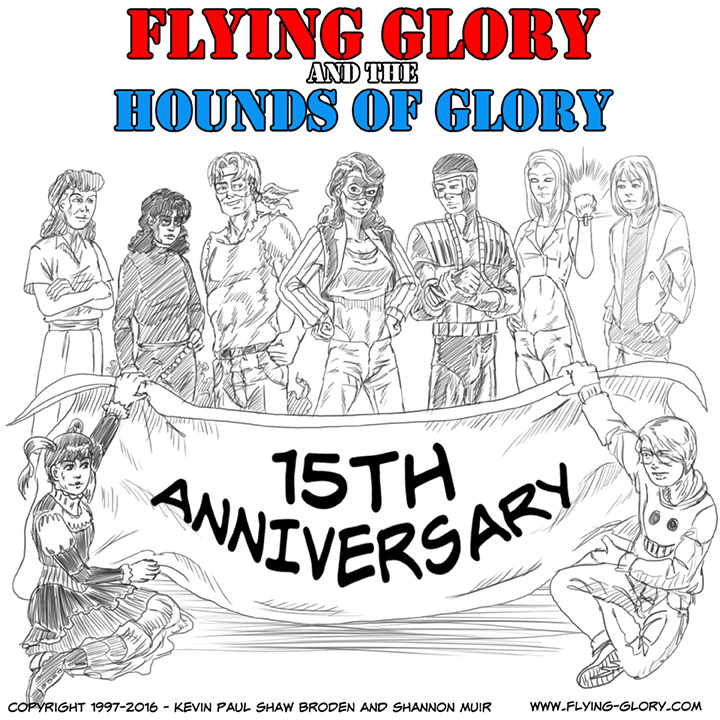 Though only a few months have passed for Debra and her friends, the webcomic FLYING GLORY AND THE HOUNDS OF GLORY have been around for 15 years.
FLYING GLORY AND THE HOUNDS OF GLORY (www.flying-glory.com) is the story of ambitious Debra Clay who's grandmother was the wartime super heroine FLYING GLORY. Now the teenager always looking for ways to promote her rock bang, The Hounds of Glory, is thrilled to discover that she has inherited her Grandma Elsie's super powers. Once she's convinced her friends to put on costumes as part of their performance, a new team of super heroes is formed even if they didn't want to be. Because they are soon fighting super villains between, and sometimes during, their rock concerts.
Be sure to pick up FLYING GLORY FLASHBACK a special 15th Anniversary edition that my co-writer Shannon Muir put to get. It includes all the song lyrics she wrote for the series as well as character bios. (amzn.to/293eI1L)  Only 99cents.