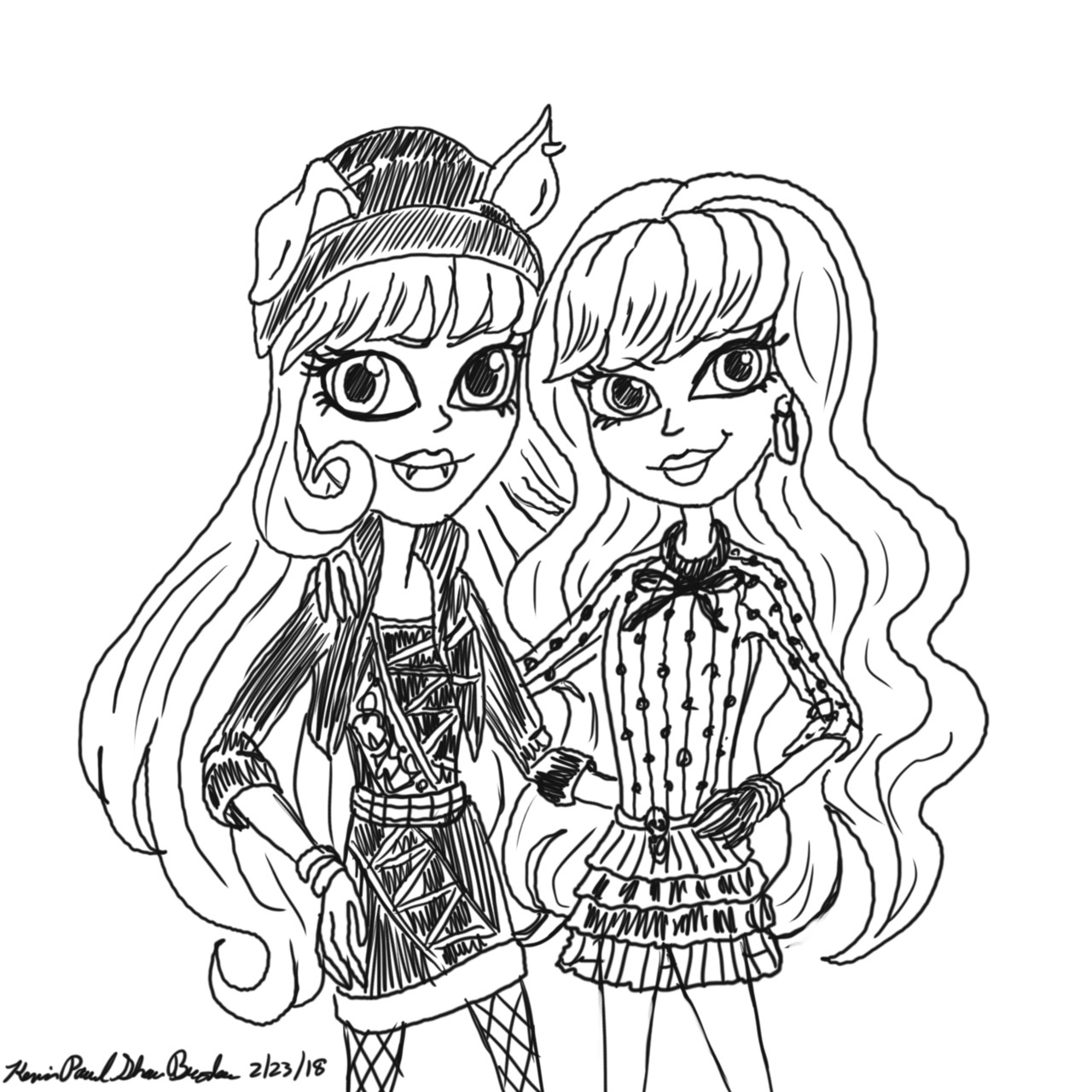 Here is my today's sketch. Of Howleen Wolf and Twyla from MONSTER HIGH: THIRTEEN WISHES.
I've been watching all the different EVER AFTER HIGH and MONSTER HIGH movies, and I like each of them for different reasons.
MONSTER HIGH THIRTEEN WISHES is to me perhaps one of the best of them.
It does what all these movies are required to do, first off introducing the latest version of the dolls, as well as the new ones for that season, put our characters into an adventure, and stress the theme of "All are welcome at Monster High, Freaky Flaws and All."
In my opinion Thirteen Wishes goes a few steps further than most of the others do. Because it delves far more into the characters than the other movies do.
The basic theme here is about feeling alone and ignored, and what you do to have friends, be popular, and be accepted. Which is shown through Howleen Wolf and how she is tempted by the genie magic. While her friend Twyla doesn't mind living in the shadows.
Even the new character of Gigi is shown hurting because she's lonely, which results in the creation of the threat endangering everyone. That of Wisp.
It is further shown in Cleo when everyone forgets who she is, but even though she tries to pull herself back up the popularity rankings by her own wrappings, what really works best for her is that Duce feels for her even though he doesn't recognize her. Their relationship will stand no matter what, (foreshadowing Boo York Boo York).
The third part of this Lagoona Blue and Gill's relationship. How she struggles to be accepted by his family but can't manage it, but of some very blatant racist themes that only magic can over come. She is soon happy, but at a cost. Happy to be part of his family she begins to exhibit the same racists thoughts as Gill's parents. There is also an allusion to drug addition when she can't get enough of the fresh water her new life demands. She'll even give up what she enjoys for it.
Another theme that stands out, as shown in my illustration above. Is that your best friend will stick by you even when you've made the dumbest of actions in order to save you. As Twyla does for her Beast Friend Forever Howleen.
As stated, all the other Monster High films are good in their own way, but this film stands out above the rest because of its character depth and themes.
Thirteen Wishes was also the first to establish a link between Monster High and Ever After High.
Late night rambling over.