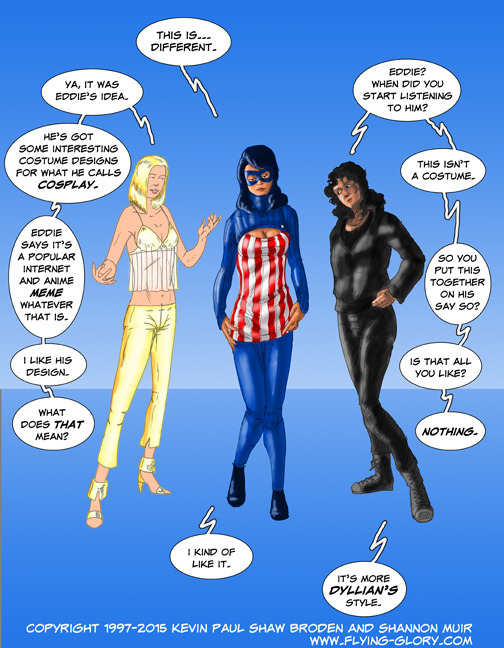 Sometime ago JList posted the anime/manga meme image of a girl in a turtleneck sweater withe a keyhole front. It turns out that there is a lot of artwork of girls in these sweaters showing off their assets. Since then a lot of artists have done their own interpretation of the sweater. So, without doing the overt sexuality of it, I wanted to do something with the sweater with my FLYING GLORY AND THE HOUNDS OF GLORY characters.
The band's costume designer Krystal Wexler has been shown some art designs by Eddie Farmer (Capt'n Plunder of the Villains of Vengeance – stage villains during performances). Eddie is totally into Manga and Anime and designs his own Costplay outfits. So he designed a keyhole sweater based on the internet meme and Krystal liked it enough to make something for Debra (Flying Glory) to wear.
It doesn't have the same impact as other girls wearing it would. But that's the point.   Not every super heroine can be Power Girl, and they shouldn't be.
Anyway, enjoy. Then goes visit the FLYING GLORY AND THE HOUNDS OF GLORY webcomic at www.flying-glory.com